Meet the Team
Pat Hogan totalhealth Pharmacy, Galway, Ireland.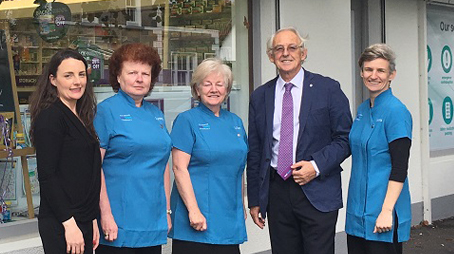 Pat Hogan totalhealthPharmacy has been at the heart of the community in Galway for the past 30 years. Pat has a great team around him who are always willing to go the extra mile to help their customers.
If you are in the shop and can't find what you're looking for please ask, each member of the team is only happy to help...

Pat Hogan and some of the team.
Neil Gallagher
Superintendent Pharmacist
Neil joined Pat Hogan totalhealth Pharmacy on a full-time basis in 2016. Originally from Co Mayo, Neil studied in NUI, Galway and went on to study pharmacy at Robert Gordon University in Scotland. Neil takes a special interest in diabetes and will deliver your flu jab in the winter.
Elizabeth Ormond
Supervising Pharmacist
Liz has been with Pat Hogan totalhealth Pharmacy since 2009. She studied pharmacy in TCD and has a special interest in paediatric care.
Lorna Dempsey
Pharmacist
Lorna studied pharmacy in Brighton University. In 2016 she returned to Pat Hogan totalhealth Pharmacy after several years working in other pharmacies in Galway. She and Anne manage our blister packing programme
Goretti Croker
Technician
Goretti has been with Pat Hogan totalhealth Pharmacy for a long time. She knows nearly every customer's name and is our most experienced fitter of elastic stockings.
Anne Mitchell
Technician
Anne manages our blister packing programme and has also been with Pat Hogan totalhealth for quite a while!
Laura Hogan
Technician
Laura has been working for Pat Hogan totalhealth Pharmacy since the shop opened – the perils of a family business but came in on a more full-time basis in 2008. She is involved in the day-to-day running of the business.